I'm so uninspired today, I don't know how interesting of a post I can produce. It's 9/11, the Bears just won...but I've got nothing. My brain might just be fried. I spent the weekend grocery shopping and studying....the life of a city girl is unbelievably exciting.
N and I came home with quite the load yesterday. Fruits, veggies, breads, brownies, you name it we got it. I love a full fridge. I can't wait to make some fall recipes...... pumpkin pie, apple cider, apple pie......
I'll be sure to post when I make them cause I'm sure it will be disastrous.
At least I'll look cute doing it, thanks to my good friend Jenna who visited this weekend and came bearing gifts! She gave me this little ruffled apron.... Loves it! Now I'm kitchen ready.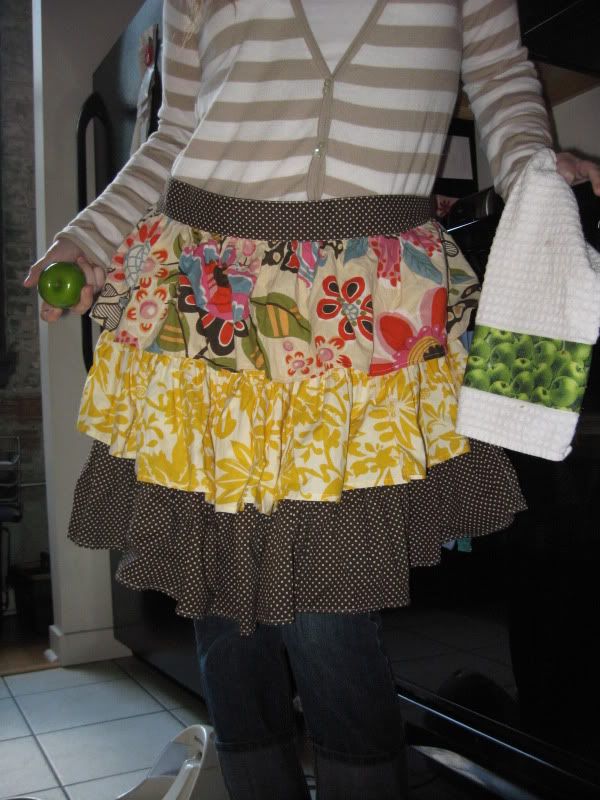 As mentioned I plan on making some divine apple desserts this fall, so I needed a cute little table top bowl to store all of my apples! I found the inspiration blog:
Every Creative Endeavor.
The blog wasn't really inspiration, as it was more "follow directions to a T". I had no creative input for this project. I purchased 50' sisal rope from Ace and got out my handy glue gun...behold the final product:
I followed her tutorial, but I suspect I used too large of a pyrex bowl as a mold. I like the final product....but it's a little wonky. In retrospect I probably would have just purchased a clear bowl from the dollar store and glued the rope to the outside.
For now I'm happy with my table top apple bowl...but I'll like it even better when it's empty and the apples are in pie form.